Yi qi is the only known species in a genus of scansoriopterygid dinosaurs from the Late Jurassic of China. Yi qi (from Chinese: 翼; pinyin: yì; literally: "wing" and 奇; qí; "strange") is known from a single fossil specimen of an adult individual found in the Middle or Late Jurassic of Hebei, China, approximately 160 million years ago. It was a small, possibly tree-dwelling animal. Like other scansoriopterygids, Yi possessed an unusual, elongated third finger, that helped to support a membranous gliding plane made of skin. The planes of Yi qi were also supported by a long, bony strut attached to the wrist. This modified wrist bone and membrane-based plane is unique among all known dinosaurs, and might have resulted in wings similar in appearance to those of bats.
Biology
Yi was a relatively small animal, estimated to weigh about 380 grams (0.84 lb).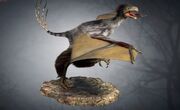 The first and only known fossil specimen of Yi qi was found by a farmer, Wang Jianrong, in a quarry near Mutoudeng Village. Wang sold the fossil to the Shandong Tianyu Museum of Nature in 2007, at which point Ding Xiaoqing, a technician at the museum, began further preparation of the fossil. Because many of the unique features and soft tissues of the specimen were uncovered by museum staff during preparation rather than amateur fossil sellers before the purchase, the scientists who studied it were confident that the specimen was authentic and unaltered. This was confirmed by a CAT scan. The initial study of Yi was published in the journal Nature and appeared on the internet April 29, 2015.
The team of scientists who authored this initial study were led by Xu Xing and also included Zheng Xiaoting, Corwin Sullivan, Wang Xiaoli, Xing Lida, Wang Yan, Zhang Xiaomei, Jingmai O'Connor, Zheng Fucheng Zhang and Pan Yanhong. Yi is notable for having the shortest generic name of any dinosaur, containing only two letters. Its binomial name, Yi qi, is also the shortest possible under articles 11.8.1 and 11.9.1 of the International Code of Zoological Nomenclature, at four letters.