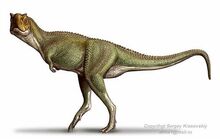 Xenotarsosaurus is an Abelisaurid that lived during the Late Cretaceous period in South America. It is one of the lesser-known Abelisaurids.
In Popular Culture
Xenotarsosaurus makes an appearance in Dinosaur Train in the 4th & final episode of the 4 part Dinosaur Train Adventure "Dinosaurs A to Z".
Gallery
Community content is available under
CC-BY-SA
unless otherwise noted.