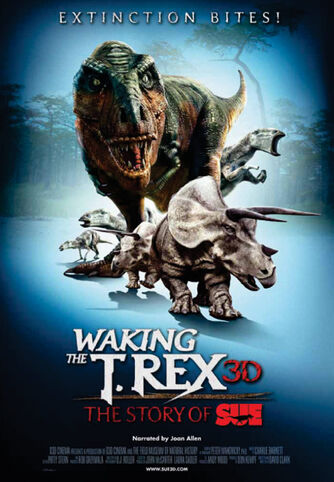 Waking the T. rex: The Story of SUE is a 2010 high-drama science adventure you won't soon forget. After 67 million years, Sue is about to awaken—in roaring, bone-crunching, in your face 3-D!
Plot
In 1990, deep in the badlands of South Dakota, paleontologists unearthed the bones of a monster. Forty feet long and weighing several tons, the fossil skeleton was assembled and rebuilt into the largest, most complete T. rex ever discovered. Named Sue, this majestic icon of the dinosaurs has captured the imaginations of millions of museum visitors over the years. But her full story has yet to be told…until now. The story unfolds when the film turns to the bones themselves.  Much data is gleaned by scanning the fossil interior, but it's mostly tech-heavy and a somewhat drab exercise in bone scanning.  Studying the fossil exterior is where much of Sue's dramatic life takes place.  The bones tell of a hard life filled with injury and disease.  The film takes these cues to deliver animated sequences of Sue's supposed life -- from birth to a solitary teenager to a battle with a Triceratops, and finally an aging and injured Sue satisfied with scavenging her meals.
Waking the T. rex: The Story of SUE traces the life of one of the most feared predators of the Cretaceous. Join scientists as they decipher fossil clues to piece together the lifelong struggles, from nest to death, of this famous Tyrannosaurus. Witness her life events unfold, including an epic battle with a Triceratops, in a world where the only rule is eat or be eaten.
Dinosaurs and other reptiles
Gallery
Trivia
Community content is available under
CC-BY-SA
unless otherwise noted.