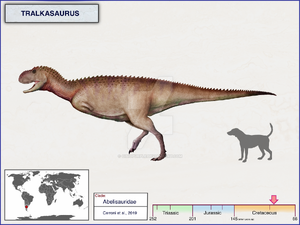 Tralkasaurus cuyi
(name meaning: "Thunder lizard") is a genus of abelisaurid theropod from the Late Cretaceous Huincul Formation in the Río Negro Province of Argentina. Its name comes from the Mapuche word "tralka", meaning "thunder."
Discovery and naming
Description
Tralkasaurus is a new genus and species of medium-sized abelisaurid theropod dinosaur. Tralkasaurus cuyi has been discovered by Dr. Mauricio Cerroni from the Argentine Museum of Natural Sciences and CONICET and his colleagues.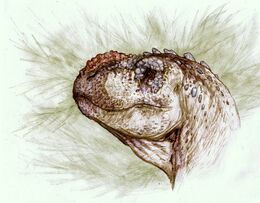 Tralkasaurus cuyi lived approximately 90 million years ago in what is now Patagonia, Argentina. It belongs to Abelisauridae, a group of ceratosaurian theropod dinosaurs that thrived during the Cretaceous period on the supercontinent Gondwana.
The incomplete fossilized skeleton of Tralkasaurus cuyi, including a jaw and vertebra, were discovered at the Violante Farm fossil site in Río Negro province, northern Patagonia. [1]
Classification
Paleoecology
References
Reconstruction: https://www.deviantart.com/cisiopurple/art/Tralkasaurus-822334264
Community content is available under
CC-BY-SA
unless otherwise noted.