Name Change
How can I change my username to Incisviosaurus? --Inscivosaurus 17:02, 19 July 2008 (UTC)
Hi, The main page must be a featured prehistoric animal, you are understand, Inscicivosaurus? --El tio 00:27, 25 August 2009 (UTC)
Picture change
The Dinopedia must to have this: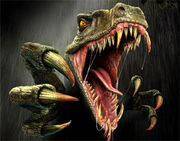 is better than File:Diplodocus carng1DB.jpg--
El tio
22:59, 28 August 2009 (UTC)
Suggestion
I am new to Dinopedia but I suggest that we get rid of all the articles about mammels just because this is Dinopedia and not Mammelpedia.

Paleo500-October 13, 2010
If you think it's Mammalpedia or Burgess Shale pedia this wiki have mammals, Cenozoic animals and some from the Paleozoic like Dimetrodon from the Permian and Anomalocaris from the Cambrian Burgess Shale. User:98.177.220.111
Help out on Paleopedia
Any body interested on helping Paleopedia expand its content? Click here to visit. It is a wiki that uses sources other than Wikipedia.
Please help me! I'm a mere Wikia contributor and want to become an user. But when I tried, they said they could'nt accept me at that time! I tried repeadetly, but they said the same thing! I soon got tired with it and tried to make my own dinosaur wiki (Mesozoic Era Wiki) but still same thing! Can somebody tell me how I can stop this to become an user (I wrote it here because I couldn't find any other place).
New Pic
I just found in deviantArt an amazing prehisotric creature picture, check it out!: [1], and I got a question, Could we replace the diplodocus pic with this prehistoric animal lineup?--El tio 18:04, September 25, 2011 (UTC)
Logo
I liked a to edit on the Logo. User:98.177.220.111
Featured Article
When are we going to make a new featured article?  Bambiraptor has been it since Jan 2010!
The Dinosaur Expert! (Make conversation!) 18:38, May 18, 2013 (UTC)
Community content is available under
CC-BY-SA
unless otherwise noted.