This article has been a featured article on the Dinopedia home page.
This article, due to its quality and content, has been displayed on the home page as a featured article in January 2015.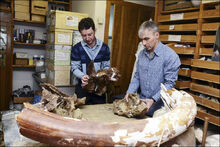 Sibirotitan ("Siberian titan") is a genus of somphospondylid sauropod from the Ilek Formation of Russia. It has one species, S. astrosacralis.
Discovery
The genus was discovered on the banks of the Kiya River in 2008. Unable to excavate the fossils from the rocks, palaeontologists were forced to extract fragments. They were subsequently taken to Tomsk State University, where experts examined the fossils.[1] It was informally nicknamed "Sibirosaurus" in the press in 2015 and then renamed to Sibirotitan in 2017.
References
↑ Ward, Victoria (March 28, 2015). "Scientists discover 'new species' of dinosaur". Telegraph.co.uk. Retrieved March 30, 2015.
Community content is available under
CC-BY-SA
unless otherwise noted.