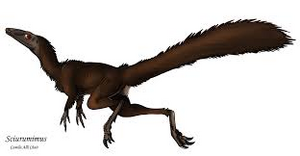 Sciurumimus albersdoerferi (pronounced "SHOE-ruh-MIME-us") is a feathered coelurosaur. "All of the feathered predatory dinosaurs known so far represent close relatives of birds," said palaeontologist Oliver Rauhut, of the Bayerische Staatssammlung für Paläontologie und Geologie. "Sciurumimus is much more basal within the dinosaur family tree and thus indicates that all predatory dinosaurs had feathers."
Description
Classification
http://www.sciencedaily.com/releases/2012/07/120702210225.htm
Gallery
Community content is available under
CC-BY-SA
unless otherwise noted.