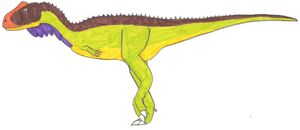 Rahiolisaurus is a genus of abelisaurid dinosaur from the Late Cretaceous period (70-66 MYA) of India. It was discovered in 2010. It can be distinguished from Rajasaurus by its more slender build. It is known from a fossil bed containing seven different individuals at various stages of growth. It was up to 8 metres (24 ft) long, 3 metres (12 ft) high and weighed about 2 tons.
Gallery
Community content is available under
CC-BY-SA
unless otherwise noted.