This article is a stub.
This article needs expanding. You can help improve this article by adding additional content.
Purlovia
Temporal range: Late Permian
An restoration illustration of Purlovia maxima
Scientific classification
Kingdom:
Animalia
Phylum:
Chordata
Order:
Therapsida
Suborder:
†Therocephalia
Family:
†Nanictidopidae
Genus:
†Purlovia
Ivakhnenko, 2011
Binomial name

†

Purlovia maxima
Ivakhnenko, 2011
Purlovia maxima is a species of large Therocephalian Therapsid from late Permian Russia. It is known for its wide skull, which is unusual feature in Therocephalian species.
In the Media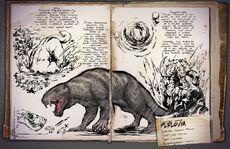 Purlovia is one of the new creatures that will appear in ARK: Survival Evolved. It is depicted as a carnivore, but in real-life counterpart was presumed to be an herbivore and presumably would not have eaten meat; although it is not for certain.
Community content is available under
CC-BY-SA
unless otherwise noted.