Metaxytherium is an extinct genus of dugong that lived from the Miocene until the end of the Pliocene. Fossil remains have been found in Africa, Asia, Europe, North America (Güines and Lagunitas Formations, Cuba), and South America (Paraná Formation, Argentina, Pirabas Formation, Brazil and Montera Formation, Peru).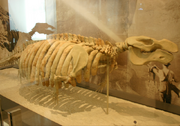 Classification
Scientific classification
Kingdom:
Phylum:
Class:
Order:
Family:
Genus:

Metaxytherium

De Christol 1840

Species

M. albifontanum Vélez Juarbe & Domning 2014
M. arctodites Aranda Manteca et al. 1994
M. crataegense Simpson 1932
M. floridanum Hay 1922
M. krahuletzi Depéret 1895
M. medium Demarest 1822 (type)
M. riveroi Varona 1972
M. serresii Gervais 1847
M. subapenninum Bruno 1839
Community content is available under
CC-BY-SA
unless otherwise noted.