Massospondylus
Name
Massospondylus
Name Translation
Massive vertebra
Period
195 mya
Location
Canada, Africa
Diet
Herbivore
Size
5 meters(16 feet)
Massospondylus
is a
prosauropod
that lived in the Early Jurassic Period. It is 4–5 meters long, which is from 13 ft to 16 ft in length. Its name means
massive vertebra
. Their remains have been found in Zimbabwe, South Africa,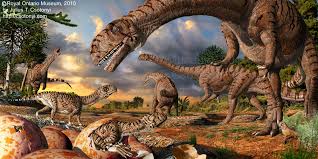 and the United States. Sir Richard Owen named it in 1854. Like some other prosauropods, it too had a pair of thumb claws either used for defending itself or its young against predators, or as a feeding tool. (Perhaps it may even be used for both.)
They swallowed pebbles to digest leaves and branches. It was a high browser, rearing up to its hind legs for its tree food.
In the Media
Massospondylus/Gallery
Community content is available under
CC-BY-SA
unless otherwise noted.