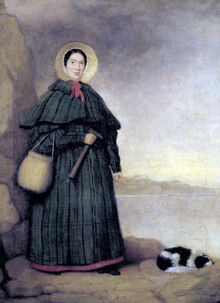 Mary Anning (1799- 1847) was one of the earliest paleontologists ever. She lived in Lyme Regis as a child, and was struck by lightning when she was a baby. Her father once took her to the edge of some cliffs at Lyme Regis, and got some rocks as a present.
Childlife
Mary Anning was bullied as a child; her mum disliked her, the children disliked her. She had a brother, Joseph Anning. Soon her father died, and she was shown fossils. Her dog assisted her in finding fossilised bones. Once they lost the dog, but he was found in a graveyard. She was growing poorer, so she made some money by selling small fossils, which made her mother proud.
Ichthyosaurus
As a child, she found a full skeleton of Ichthyosaurus with her brother Joseph. Everyone congratulated her as a part of the dinosaur was found earlier. This dinosaur is related to Dearcmhara.
More fossils
Mary Anning found a plesiosaur in 1823, and later a pterosaur.
Death
Mary Anning died of breast cancer in 1847.
Community content is available under
CC-BY-SA
unless otherwise noted.