Loricatosaurus
Name
Loricatosaurus
Order
Stegosauridae
Period
Mid Jurrasic
Location
England and France
Diet
Plants
Loricatosaurus
is a genus of stegosaurid dinosaur from Callovian-age (Middle Jurassic) rocks of England and France. It is known from remains previously assigned to 
Lexovisaurus
; however, upon review of the material, Susannah Maidment and colleagues determined that 
Lexovisaurus
 was based upon nondiagnostic remains, and coined a new genus for the other specimens. The species name, 
priscus
, comes from the oldest name associated with diagnostic specimens,Baron Franz Nopcsa's "Stegosaurus" 
priscus
 of 1911. It is known from two partial skeletons. Contrary to previous reports (as 
Lexovisaurus
), a shoulder spine is not present in the known material; the possible spine is more likely from the tail.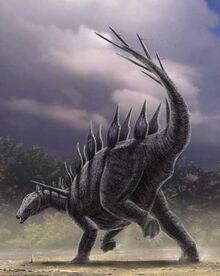 Community content is available under
CC-BY-SA
unless otherwise noted.