Juravenator is a Compsognathid from late Jurassic Germany. It was 2.6 ft (80 cm).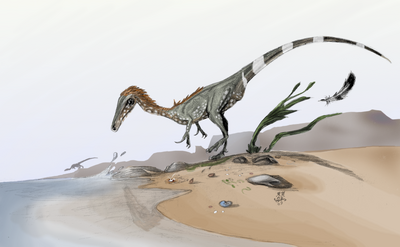 Impressions of patches of scaly skin are preserved and protofeather impressions, suggesting that the presence of scales on the tail of Juravenator means that the feather coat of early feathered dinosaurs was more variable than seen in modern birds.
Discovery
In the summer of 1998, the Jura-Museum Eichstätt at Eichstätt organised a paleontological expedition to the nearby chalk quarry of Schamhaupten.
Description
Juravenator was a small bipedal predator. The holotype of Juravenator represents a juvenile individual, about seventy-five centimetres in length.
Classification
Paleobiology
Gallery
Community content is available under
CC-BY-SA
unless otherwise noted.