Jaklapallisaurus
Name
Jaklapallisaurus
Order
Saurischia
Suborder
Sauropodomorpha
Class
Plateosauridae
Name Translation
Jaklapalli lizard
Period
Late Triassic 217-201 Million Years Ago
Location
India
Diet
Herbivore
Size
2.5 m long, 1.5 m tall, 250 kg in weight
Date of Discovery
2011

Jaklapallisaurus is a Prosauropod from late Triassic India. It was found in 2011. It is related to Barapasaurus.
Description
It lived during the Late Triassic period, specifically from late Norian to the early Rhaetian; in what is now Telangana, central India.
It is known from the holotype dubbed as ISI R274, which is a postcranial material, collected from the Upper Maleri Formation of the Pranhita - Godavari Basin and from the referred material ISI R279, partially complete right femur.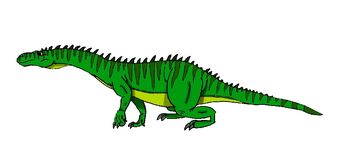 Community content is available under
CC-BY-SA
unless otherwise noted.