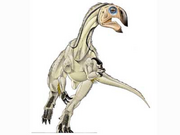 Ingenia was a genus of carnivorous theropod dinosaurs that roamed in Asia in the Cretaceous period ( nearly 60 million years ago ). It was about 6 feet ( 1.8 meters) long, 3 feet high from the pelvis, and 88 pounds in weight.
Fossils
It's fossils were found in Mongolia, central Asia.
Naming
It was named by Rinchen Barsbold in 1981. 
It's name means " for Ingeni-Khobur ( Mongolian Inge[n] ' she camel ' + ia ).
Do not confuse it with the genus of marine nematode worms with the same name.
Gallery