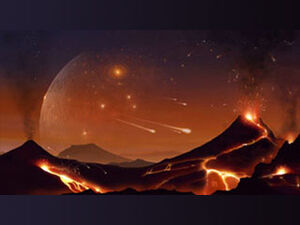 The Hadean is a geologic eon of the Earth predating the Archean. It began with the formation of the Earth about 4.6 billion years ago and ended, as defined by the ICS, 4 billion years ago.[1] The geologist Preston Cloud coined the term in 1972, originally to label the period before the earliest-known rocks on Earth.
In the last decades of the 20th century geologists identified a few Hadean rocks from Western Greenland, Northwestern Canada, and Western Australia. In 2015, traces of carbon minerals interpreted as "remains of biotic life" were found in 4.1-billion-year-old rocks in Western Australia.[2][3]
The oldest dated zircon crystals, enclosed in a metamorphosed sandstone conglomerate in the Jack Hills of the Narryer Gneiss Terrane of Western Australia, date to 4.404 ± 0.008 Ga.[4] This zircon is a slight outlier, with the oldest consistently-dated zircon falling closer to 4.35 Ga[4]—around 200 million years after the hypothesized time of the Earth's formation.
References
↑ "International Chronostratigraphic Chart 2015". ICS. http://www.stratigraphy.org/ICSchart/ChronostratChart2015-01.pdf

. Retrieved 23 January 2016

.

 

↑ Bell, Elizabeth A.; Boehnike, Patrick; Harrison, T. Mark et al. (19 October 2015). "Potentially biogenic carbon preserved in a 4.1 billion-year-old zircon" (PDF). Proc. Natl. Acad. Sci. U.S.A. (Washington, D.C.: National Academy of Sciences) 112: 14518–21. doi:10.1073/pnas.1517557112. ISSN 1091-6490. PMID 26483481. PMC Template:=pmcentrez&artidTemplate:=4664351 4664351. http://www.pnas.org/content/early/2015/10/14/1517557112.full.pdf

. Retrieved 2015-10-20

.

 

Early edition, published online before print.
↑ 4.0 4.1 Wilde, Simon A.; Valley, John W.; Peck, William H.; Graham, Colin M. (2001). "Evidence from detrital zircons for the existence of continental crust and oceans on the Earth 4.4 Gyr ago". Nature 409 (6817): 175–178. doi:10.1038/35051550.

 
Cite error: <ref> tag with name ".7B.7B.7B1.7D.7D.7D" defined in <references> is not used in prior text.