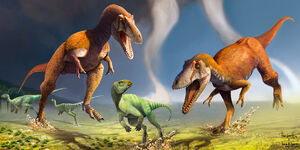 Gaulicho is a genus of theropod dinosaur from the Late Cretaceous of Patagonia, Argentina. It was discovered in 2016. Its name comes from the gaulichu, a demon in Argentinian mythology. It was a close relative to the African Deltadromeus. It possessed reduced arms and two-fingered hands, similar to those of Tyrannosaurus rex, showing that carnosaurs were subject to the same evolution of limb-reduction as tyrannosaurs and abelisaurids. It may be synonymous with the megaraptoran Aoniraptor, due to their similar caudal vertebrae and similar location, though this is still unconfirmed.
References
https://www.theguardian.com/science/2016/jul/13/meet-gualicho-shinyae-the-puny-armed-distant-relative-of-t-rex
Community content is available under
CC-BY-SA
unless otherwise noted.