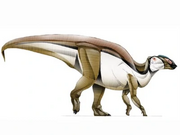 Gryposaurus ("hooked-nosed lizard") is a genus of hadrosaurid (duck-billed) dinosaur. It lived about 83-74 million years ago, in the Late Cretaceous of North America.
Popular Culture
Gryposaurus made it's 1st animated appearance in Disney's Fantasia.
One of the Gryposaurus made some appearances in one of The Land Before Time Movies.
In How I Paint Dinosaurs James Gurney Illustrates a Gryposaurus feeding on the leaves from a tree & another one being brought down by a Teratophoneus.
Gallery
References
Community content is available under
CC-BY-SA
unless otherwise noted.