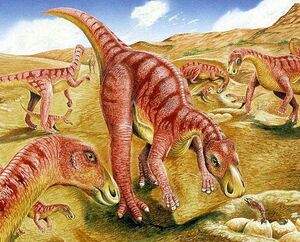 Gilmoreosaurus is the name given to a genus of dinosaur from the Cretaceous of Asia. The type species is Gilmoreosaurus mongoliensis.
It is believed to be a hadrosaur from the Iren Dabasu Formation of Mongolia, dating to 70 million years ago. Additional specimens have been described as distinct species, including G. atavus from the Khodzhakul Formation of Uzbekistan (120 Ma ago) and G. arkhangelskyi from the Bissekty Formation (89 Ma ago). However, these are based on very fragmentary remains, and their classification is dubious. An additional species, G. kysylkumensis (also from the Bissekty Formation) is sometimes included, though it has also been referred to the related genus Bactrosaurus.
The first Gilmoreosaurus fossil remains were collected by George Olsen in 1923 and consisted of disarticulated bones from several individuals at different localities. They were originally assigned to the genus Mandschurosaurus but later given the separate genus Gilmoreosaurus, which was characterized by its combination of basal iguanodontian and hadrosaurid traits. Although a consensus on the exact taxonomic placement of this genus remains unreached, a 2010 study by Prieto-Márquez and Norell places the animal in a closely related outgroup to Hadrosauridae, based on a reassessment of its taxonomic status using a large-sample phylogenic analysis. In 2003, evidence of tumors, including hemangiomas, desmoplastic fibroma, metastatic cancer, and osteoblastoma was discovered in fossilized Gilmoreosaurus skeletons. Rothschild et al. tested dinosaur vertebrae for tumors using computerized tomography and fluoroscope screening. Several other hadrosaurids, including Brachylophosaurus, Edmontosaurus, and Bactrosaurus, also tested positive. Although more than 10,000 fossils were examined in this manner, the tumors were limited to Gilmoreosaurus and closely related genera. The tumors may have been caused by environmental factors or genetic propensity. [1]
Gallery
References
Community content is available under
CC-BY-SA
unless otherwise noted.