---
---
Elasmosaurus
Temporal range:

Late Cretaceous

An artist's illustration of Elasmosaurus platyurus
Scientific classification
Kingdom:

Animalia

Phylum:
Chordata
Class:
Reptilia
Superorder:
†Sauropterygia
Order:
†

Plesiosauria

Family:
†Elasmosauridae
Genus:
†Elasmosaurus
Cope, 1868
Species:
†E. platyurus
Type species
Elasmosaurus platyurus

Synonyms
Elasmosaurus platyurus was a type of long-necked plesiosaur, belonging to the family of Elasmosauridae, the order of Plesiosauria, and the suborder of Plesiosauroidea. It belongs to the family that consists of the longest-necked plesiosaurs. Elasmosaurus thrived during the Cretaceous Period, and lived on a diet of fish and other small sea creatures of that time. They typically reached around 10–14 meters in total body length, with a neck that counted for over half of its body length.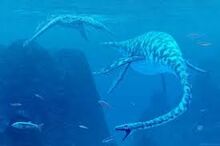 Elasmosaurus is the largest of all plesiosaurs, with a neck that consisted of 70 vertebrae that counted for over half of the massive animal's total body length: fourteen meters. Elasmosaurus is the type species for the family of Elasmosauridae and was closely related to other elasmosaurid plesiosaurs such as Hydrotherosaurus and Thalassomedon. By contrast, its' head was proportionally small, rather bulldog-like, armed with some very sharp teeth that in the front of the snout were overlapping and longer than in the hind part of the jaws.
Like the rest of the plesiosaurs, Elasmosaurus had flipped for limbs. They were paddle-like, unlike those of the ichthyosaurs. Elasmosaurus was a carnivore: like its' relatives it hunted prehistoric fish and cephalopods, but also may have captured various pterosaurs. Meanwhile, other marine reptiles of the Cretaceous, such as Tylosaurus, probably preyed on Elasmosaurus itself.
History of study
Description
Formerly assigned species
Classification
Paleobiology
Paleoecology
In popular culture
Elasmosaurus appeared in Chased by Sea Monsters.
Elasmosaurus appeared on Dinosaur Train.
Elasmosaurus appeared on Dino-Riders the episode "Blue Skies of Earth".
Elasmosaurus appeared in You Are Umasou as an individual named Pero-Pero
Elasmosaurus appeared in ARK: Survival Evolved.
Gallery