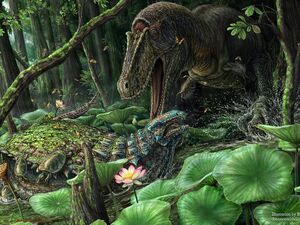 Dyanmoterror dynastes ("Power terror") is a genus of tyrannosaurid theropod from the Late Cretaceous Menefee Formation of New Mexico. Along with Lythronax, it is one of the oldest tyrannosaurids (families Tyrannosaurinae and Albertosaurinae) known. Its name originates from "Dyanmosaurus", an old name that was originally applied to a chimera of Tyrannosaurus rex, a nodosaurid, and a few other herbivore remains that had been found together and described as one animal in 1905, but was later found to be synonymous with T. rex.
Description
Discovery
Classification
Paleoecology
Gallery
Community content is available under
CC-BY-SA
unless otherwise noted.