Chilesaurus
An artist's illustration of Chilesaurus diegosuarezi
Scientific classification
Kingdom:
Animalia
Phylum:
Chordata
Class:
Sauropsida
clade:
Dinosauria
Genus:
†Chilesaurus
Type species

†

Chilesaurus diegosuarezi
Novas et al. 2015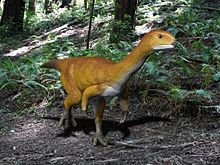 Chilesaurus is an extinct genus of a herbivorous dinosaur. It lived during the late Jurassic period in Chile, 145 mya. This genus is monotypic containing a single species, C. diegosuarezi.
Description

The type species was about 3.2 m (10 ft). The holotype was small and about half the size.
Gallery