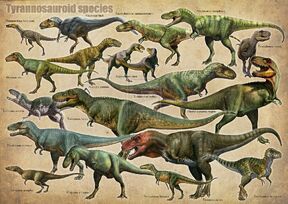 Tyrannosaurs were among the most aggresive meat eating dinosaurs in North America and  Asia. Many tyrannosaurs were first small or human-sized and covered in feathers.Then large tyrannosaurs came by. Here are some tyrannosaur species.
             Tyrannosaurus Rex
              Tarbosaurus
              Nanotyrannus
              Albertosaurus
              Daspletosaurus
Most species of tyrannosaurus have small arms with 2 fingers.
Trending pages
All items (49)
Community content is available under
CC-BY-SA
unless otherwise noted.