Castorocauda lustrasimilis is a mammal from early Jurassic China. Castorocauda resembles today's beavers but like the platypus it laid eggs. Castorocauda is been known to eat fish.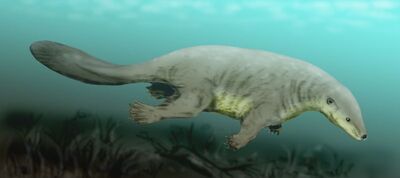 Etymology
Taxonomy
Description
Paleoecology
In popular culture
Castorocauda appeared in Dinosaur Revolution as prey for the Guanlongs.
Castorocauda appeared on Dinosaur Train.
Gallery
Community content is available under
CC-BY-SA
unless otherwise noted.