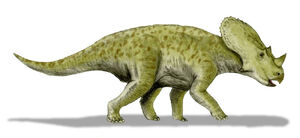 Brachyceratops ('short horned face') is a dubious genus of ceratopsian dinosaur known only from partial juvenile specimens dating to the late Cretaceous Period of Montana, United States.
Brachyceratops has historically been known entirely from juvenile remains, with one specimen having since been re-classified as Rubeosaurus ovatus.
Discoveries and species
Skull
Classification
Gallery
Community content is available under
CC-BY-SA
unless otherwise noted.