Barsboldia (named for Mongolian paleontologist Rinchen Barsbold in 1981) is a Lambeosaurine hadrosaur from late Cretaceous Mongolia. It was about 32.8 feet (10 meters) in length, 13 feet in height, and weighed about as much as a rhinoceros. Known from only the rear half of a skeleton.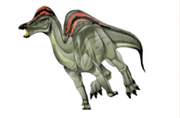 Description
Phylogeny
Paleobiology
Community content is available under
CC-BY-SA
unless otherwise noted.