Barosaurus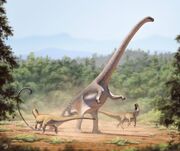 Scientific classification
Barosaurus is a species of very large sauropod that lived in Late Jurassic. It is related to Diplodocus and Apatosaurus. Like most of the other sauropod species in Diplodocidae, it has a long, slender neck, stout, column-like limbs, and a long whip-like tail.
One primary difference between Barosaurus and Diplodocus is that it has 16 neck vertebrae, as opposed to the usual 15. Also, the vertabrae were about a third longer in length than its relatives. This suggests a larger feeding range, as it can stretch its neck easier to get the leaves on different-sized trees.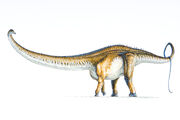 Barosaurus fossils are found in the USA and Tanzania and the average skeleton is about 93 feet (29 meters) long. It is a candidate for being one of the largest, if not the largest land animal and dinosaur in history.
Description
Classification and systematics
Discovery and naming
Paleobiology
Paleoecology
Popular Culture
Barosaurus made an appearance in the Roblox game called "Dinosaur Simulator".
Gallery
Community content is available under
CC-BY-SA
unless otherwise noted.