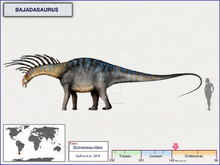 Bajadasaurus ("downhill lizard") is a genus of sauropod from the Early Cretaceous Bajada Colorada Formation of Argentina. Bajadasaurus is distinct due to the extremely long neural spines, similar to those of its close relative Amargasaurus, that extend from its neck vertebrae. These spines curved forward over the animal's neck, resulting in the dinosaur's species name, pronuspinax, meaning "forward curving spine."
Discovery and naming
Description
Paleobiology
Paleoenvironment
In Popular Culture
Bajadasaurus appears as one of many collectible prehistoric creatures in the video game Jurassic World: Alive. It is currently the most recently described genus to appear in the franchise.
Gallery
References
Community content is available under
CC-BY-SA
unless otherwise noted.