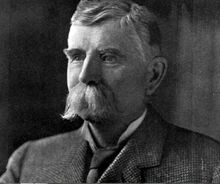 Alfred Nicholson Leeds (9 March 1847 – 25 August 1917) was an English amateur palaeontologist.
His elder brother Charles, a student at Oxford University, had been encouraged by Professor John Phillips to persevere in collecting fossils from near his home. Alfred joined him in these searches, and between them they developed better methods of disinterring, and of scientifically recording, fossils in soft clay than had been used before.
He amassed one of the largest collections of fossil vertebrates in the world.
1880s – he collected fossils of a large Mesozoic bony fish, which proved to be from the novel genus Leedsichthys, later described and named in his honour by Arthur Smith Woodward (in 1889).
Community content is available under
CC-BY-SA
unless otherwise noted.