Adelobasileus
Name
Adelobasileus
Class
Chordata,‭ ‬Mammaliamorpha
Name Translation
Obscure King
Period
Carnian (Triassic)
Location
Texas
Diet
Insectivore
Size
Unknown, but the skull was about 17 millimeters.

Adelobasileus is a genus of mammaliaform from the Triassic. It is a transitional form between primitive cynodonts and other Triassic mammals. It is known only from a partial skull recovered from the Tecovas formation in western Texas, southern United States, referred to the species Adelobasileus cromptoni.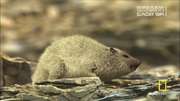 In popular culture
Adelobasileus appeared in the documentary series Mammals vs. Dinos.
Adelobasileus appeared in the documentary Life After Dinosaurs.