Acheloma
Name
Acheloma
Class
Chordata,‭ ‬Amphibia,‭ ‬Temnospondyli,‭ ‬Trematopidae
Name Translation
Unknown
Period
Permian
Location
USA, Oklahoma, Texas
Diet
Carnivore/Piscivore
Size
Unknown
Acheloma
(also known as
Trematops milleri
) is an extinct
genus
of
temnospondyl
that lived during the
Early Permian
.
[1]
[2]
The
type species
is
A. cumminsi
.
Trematops milleri
has been
synonymized
with 
Acheloma
. Like other trematopids,
Acheloma
was a large terrestrial carnivore. One species,
A. dunni
, may have been the top predator of the diverse 
Richards Spur
assemblage in
Oklahoma
. The following
cladogram
shows the
phylogenetic
position of
Acheloma
, from Polley & Reisz, 2011.
[3]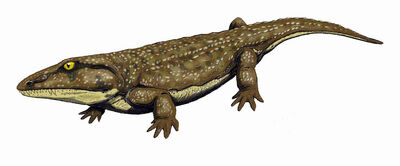 Remians inculde Holotype (OMNH 73281): nearly complete skull with associated atlas–axis complex and partial lower jaw.

Referred specimens: BMRP2007.3.4 (skull),  BMRP2007.3.1 (snout), OMNH
52365 (jaw articulation), OMNH 73514 (pelvic girdle), OMNH 52545, (right humerus)
Community content is available under
CC-BY-SA
unless otherwise noted.